Recently, fake Facebook pages have been added on behalf of large companies in Kosovo to damage their image and deceit the citizens.
The purpose of these people is to create a Facebook audience through fraud on behalf of some companies. In order to raise awareness and inform citizens to avoid and not fall prey to these scams we have designed steps to identify fake accounts.
One of the Facebook pages that resembles Neptune Kosova has published an 'alleged' article about 3X IPHONE 11 PRO, 2X HP Pavilion Laptop, 1X Samsung Refrigerator and all you have to do to "win" these prizes is to comment and share the post. And you may come across other similar articles often lately.
How to identify fake pages:
Posts over the years
You need to check if there is a verified business page (with that name)
Number of likes on the page
Page Creation Date
Does the official page have a promo call?
To build a safer cyber environment, it is preferable to report suspicious pages. Simplified procedure of how you can report a Facebook page claiming to be someone else (fake pages)
1. Click on the page profile
2. Click… (3 dots) from the top right and select Find Support or Report Page.
3. Click Scams and Fake Pages.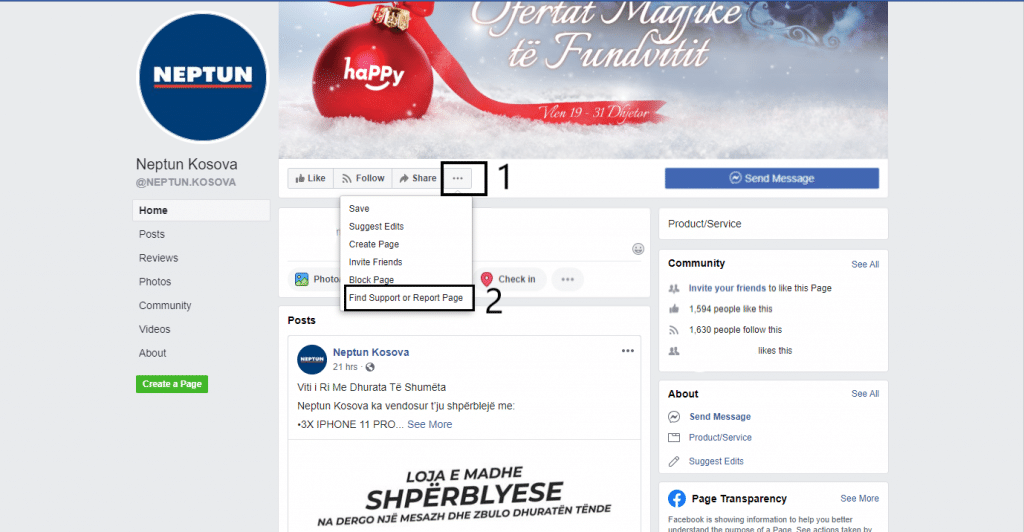 4. Select the option that best describes the False Page.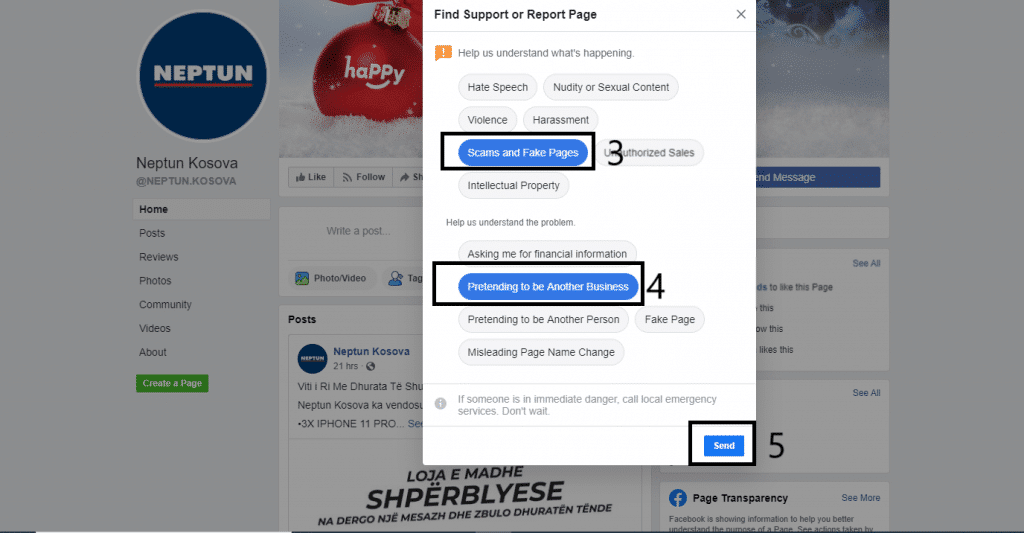 5. Click Send
Some of the researched sites that are fake:
IPKO's fake page🚫:
https://www.facebook.com/ipko.rrethiyte
IPKO's original page🆗:
https://www.facebook.com/IPKO.Rrethiyt
NEPTUN's fake page🚫:
https://www.facebook.com/NEPTUN.KOSOVA
NEPTUN's original page🆗:
https://www.facebook.com/NeptunKS
Devolli Prince Caffe's fake page🚫:
https://www.facebook.com/Princ-Caffe-112617513541716/
Devolli Prince Caffe's original page🆗:
https://www.facebook.com/devolliprinccaffe
Hib Petrol's fake page🚫:
https://www.facebook.com/Hib-Petrol-109631103822443
Hib Petrol's original page🆗:
https://www.facebook.com/hibpetrol/